Latchkey Home Book Reviews Essays Conference News Featured New Women
New Women: Who's Who GalleryThe Whine Cellar
Teaching Resources Bibliography
Contact us

FEATURED NEW WOMEN
Clemence Annie Housman (1861 – 1955)

Clemence Housman was an engraver, illustrator, author, and feminist activist who has been too long neglected and even overshadowed by studies of the more well-known late-century women authors, such as Vernon Lee, George Egerton, and Sarah Grand.

Housman was born in Bromsgrove, Worcestershire, the third of five children to Edward and Sarah Jane Housman. As a child she was educated at home by a governess, but later in life, after she was left a small legacy, she moved to London with her younger brother, Laurence. She lived with Laurence for the next fourteen years, a mutual arrangement that was particularly agreeable to Housman as it gave her the freedom she sought from the family home. Brother and sister lived in Kensington where they became acquainted with prominent writers and artists such as William M. Thackeray, John Everett Millais, and Edward Burne-Jones, before moving to Pembroke Cottages, Edwardes Square. After World War I, they lived in a cottage in the village of Ashley in Hampshire, and in 1924, they moved to the larger village of Street in Somerset. Living with her brother, but with her own and separate financial security, allowed Housman to fulfil her educational ambitions. In 1883, at the age of twenty-seven, she attended both the City and Guilds South London Technical Art School at Kennington, and the Millers' Lane City and Guilds School in South Lambert. At both of these institutions she learned, among other crafts, wood engraving, which would become a key skill for her future career as a feminist activist.

Her creative education allowed Housman to gain employment for such popular and influential illustrated weekly magazines as the Illustrated London News and the Graphic, so her drawings were published in leading and important periodicals of the time, thus showcasing her talent to a wide audience. She also collaborated with her brother, illustrating some of Laurence's fantastical tales, such as Moonshine & Clover (1922), bringing Housman's engraving to the attention of a trans-Atlantic readership as the novel was published in New York. At this time, Laurence was himself an established writer of children's literature, political pamphlets and a playwright. However, wood engraving for periodicals and newspapers declined around the turn of the century due to the rise of commercial photo-mechanical engraving. As a result, Housman began to work for private presses, such as C. R. Ashbee's Essex House Press and James Guthrie's Pear Tree Press, to maintain her own economic and artistic autonomy as they were fellow members of the Arts and Craft movement (Crawford 293).

As sister to Laurence and the poet A. E. Housman, Housman moved within a dazzling and powerful literary and artistic circle. Not only did she publish her own illustrations in prestigious magazines, and illustrate Laurence's work, but she published three of her own novels as well. The first was "The Were-Wolf"(1896) in Atalanta, a magazine for young ladies, which Laurence illustrated after its first publication run. "The Were-Wolf" is a Christian allegory, but has been read also as a response to the New Woman through the figure of its heroine White Fell. Described as "half masculine, yet not unwomanly" (214), White Fell is a strong and sexually confident woman, who is also the titular monstrous figure, embodying fin-de-siècle fears of the monstrous mother. Housman's second novel, Unknown Sea (1898), was published by Duckworth, and is another Christian allegory. Her third, The Life of Sir Aglovale De Galis (1905) is a fantasy based on Malory's Morte d'Arthur (1485) about a knight who values truth above honour.

As well as having prominent artistic friends, Housman had influential friends in other areas, such as the shoe manufacturers Roger and Sarah Bancroft Clark of Street, and the actress Edith Craig. But it is her associations with important women of the day that drove Housman's feminist activities. In 1908, she became involved with the Women's Social and Political Union (WSPU), a militant suffragist movement led by Emmeline Pankhurst and her daughters, Christabel and Sylvia. Based out of Manchester and London, the WSPU, in force from 1903-1917, was renowned for its aggressive tactics: hunger strikes, breaking the windows of major political buildings, and night-time arson attacks of unoccupied houses and churches. 

In February 1909 Housman and Laurence, co-founded the Suffrage Atelier. Describing itself as "An Arts and Crafts Society Working for the Enfranchisement of Women," the group was made up of artists, writers and actors, and aimed to "encourage Artists to forward the Women's Movement, and particularly the Enfranchisement of Women, by means of pictorial publications" (V&A Collections). The Atelier encouraged non-professional artists to submit work and paid them a small percentage of any profits made from work sold. Housman and Laurence used their home as a central meeting place for this organisation and other intellectuals and artists aligned with the suffragette movement. They contributed collaboratively-crafted banners for the suffragette cause: Laurence designed them, while Housman produced them using both engravings and embroideries. In 1910, Housman became a member of the committee of the Tax Resistance League, an organisation that defied the government by stating that as women could not vote, and thus influence political matters, they should not have to pay tax. Housman was the first woman arrested for non-payment of taxes on 30th September 1911; she was sent to Holloway Prison, and then released after just one week following protests and demonstrations by her supporters. Housman paid her debt after 1918 when women gained partial enfranchisement. By her late sixties, Housman had retired as an artist and writer, preferring to garden in her Somerset home. She died aged ninety two, though her spirit and legacy of over half a century's feminist activism live on in critical appraisals and creative inspiration for the next generations.

Janine Hatter is an Early Career Researcher whose research interests centre on nineteenth-century literature, art and culture, with particular emphasis on popular fiction. She is co-organiser for the Victorian Popular Fiction Association, and general editor of the Key Popular Women Writers series. In 2013, she co-founded the Mary Elizabeth Braddon Association. She is also Book Reviews Editor for the online journal Revenant, which specialises in critical and creative responses to the supernatural.
Works Consulted
Crawford, Elizabeth. "Clemence Houseman" The Women's Suffrage Movement: A Reference Guide 1866-1928. London: UCL P, 2003: 293-4.

Easley, Alexis and Shannon Scott. "The Were-Wolf," Clemence Houseman. Terrifying Transformations: An Anthology of Victorian Werewolf Fiction. Kansas City, MO: Valencourt, 2013: 205-51.

Housman, Clemence. "The Were-Wolf." Atalanta 4. 1890: 132-56.
---. Unknown Sea. London: Duckworth, 1898.
---. The Life of Sir Aglovale De Galis. London: Methuen,1905.

Housman, Laurence. Moonshine & Clover. New York:  Harcourt, Brace, 1922.

Suffrage Atelier. "What a Woman may be, and yet not have the Vote." N. p.:  1913. N. pag.
V&A Collections. Web. 17 November 2016.
http://collections.vam.ac.uk/item/O75893/what-a-woman-may-be-poster-suffrage-atelier/


In 1889, the prominent and successful American artist William Merritt Chase claimed Cecilia Beaux to be "not only the greatest living woman painter, but the best painter who ever lived" (qtd. in "Art Jury Awards"). Beaux forged a professional career and critical presence during one of the greatest periods of social progress in women's history. Born to French-native Jean Adolphe Beaux and Cecilia Kent Leavitt in May of 1855, Cecilia "Leilie" Beaux was raised in a middle-class, Philadelphian household under the care of her three aunts and maternal grandmother who instilled in her values of independence, hard work, and self-reliance from an early age (Yount 19). By 1858, both Beaux and her sister, Aimée Ernesta ('Etta'), received home-schooling from their aunts, a curriculum befitting their social class and designed to furnish the girls with the "expertise to manage a household, the accomplishments to attract a suitable husband, and the skills to find appropriate work should circumstances dictate they find employment" (Carter 18).

Cecilia Beaux, Self Portrait (1879),
National Academy Museum,
Image copyright at The Athenaeum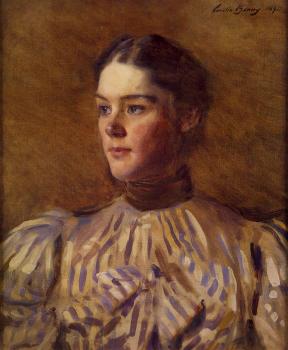 However, believing that her early artistic penchants warranted further cultivation, at the age of sixteen Beaux began formal lessons under the tutelage of Philadelphian artist Catherine Ann Drinker at Drinker's private Independence Square studio where she undertook rigorous training in copy work, lithography and antique sculpture. In 1876, Beaux enrolled as a student at the Pennsylvania Academy of Fine Arts (PAFA) and began taking courses in costume, portraiture, and life studies before transferring into antique drawing classes offered by Christian Schussele the following year. Although gradually developing ambitions for a professional career in the arts, Beaux was immediately confronted with the "rock bottom reality" of her family's financial strains and acknowledged from the onset of her career the need to secure financial independence, a reality she noted in her diary entry for December 11, 1875. In an effort to contribute to the household expenses, Beaux began making a profit from selling portrait paintings of children on porcelain, a popular art form for the period that was predominantly favoured by women artists and amateurs. 1

After displaying a work for the first time at the PAFA's Fiftieth Annual Exhibition in 1879, Beaux initiated her emergence as an independent artist and rented her first studio in Philadelphia where she would continue to produce a variety of both private and commissioned works. In what was incontestably an audacious undertaking, at the age of thirty, Beaux made her professional debut with a major easel painting, Les derniers jours d'enfance (1883-1885) at the 1885 American Art Association Exhibition in New York. The double-portrait, featuring her sister and nephew as models, received favourable reviews and warranted a second display in 1885 at the PAFA's Fifty-sixth exhibition where it won the Mary Smith Prize for best painting by "a woman resident of Philadelphia" (Yount 177). Developing her own foundation for preeminent success, Beaux then submitted the acclaimed work for jury consideration at the world-renowned French Salon in Paris in 1887. Receiving immediate attention, the American artist's large-scale portrait garnered not only admittance into the prestigious gallery, but was awarded prominent placement on the center wall.



Cecilia Beaux
Les derniers jours d'enfance (1883-1885).
Pennsylvania Academy of Fine Arts.
Image copyright at The Athenaeum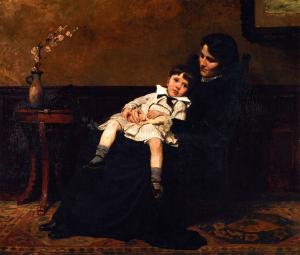 Encouraged by her painting's international success, Beaux endeavoured to pursue her education in Europe and traveled to Paris in 1888 for an extended stay abroad. Upon arrival, she enrolled at the Académie Julian on the rue de Faubourg where she drew from live models and received encouraging praise from visiting French artists such as William-Adolphe Bouguereau and Tony Robert-Fleury. Between the early years of her career in 1885 through her time as a student in Paris Beaux had produced forty-one known portrait likenesses before returning to Philadelphia in 1889. According to Alice Carter, this astonishing output may have indicated the artist's perpetual fear of being classed with other female painters who did not take the profession seriously. As Carter claims, "Cecilia who by 1885 had enjoyed some positive public notice and was filled with personal ambition, had no desire to be categorized with dilettantes" (69).

Due to her unique adeptness for naturalism, a penchant for detail, and her academic technique, Cecilia Beaux was able to blur the line between portraiture and the "higher status genre of figure painting, which was characterized [sic] by compositional complexity and narrative or thematic ideas" (Yount 13). Expanding her professional reach beyond her artistic success, in 1895 Beaux acquired the unprecedented appointment as the first female faculty member at the Pennsylvania Academy of Fine Arts, a position that she would hold for twenty years. She had accepted in addition the equally significant undertaking as one of the first women to serve on the institution's exhibition juries, legitimizing a woman's ability to critique the productions of her male colleagues (Swinth 68-69). Beaux's momentous success as an arbiter of aesthetic value continued when in 1897 she became the only woman elected to the jury of the Second Annual Exhibition at the Carnegie Institute and, three years later, the sole female on the American jury for the 1900 Exposition Universelle in Paris (Carter 128).

In the following years, and after decades of mounting critical acclaim, Beaux continued to maintain a prominent presence in many domestic and international art juries, including an appointment to the 1914 Carnegie Institute's Eighteenth Annual Exhibition and in which she exhibited one of her most modern works, her 1914 painting After the Meeting. A portrait bold in style and subject, the work depicts suffragist Dorothea Gilder resting on a lounge chair, clad in contemporary fashion, assured in gesture, and engaged in political and intellectual conversation. 2

Cecilia Beaux,
After the Meeting (1914),
Toledo Museum of Art (Ohio),
Image copyright at The Athenaeum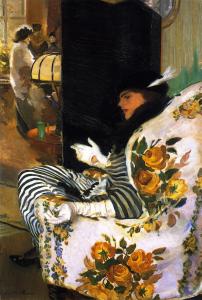 Indicative of her established reputation and national significance, in 1919 Beaux was elected by the United States National Art Committee to create a series of portraits depicting international World War I heroes including Désiré-Joseph Mercier of Belgium, British admiral Sir David Beatty, and French Prime Minister Georges Clemenceau. It was an unprecedented commission for its time since women artists, even those celebrated and prominent, in the early-twentieth century were still expected to depict what continued to be regarded as feminine subjects; it was exceedingly rare to commission a female painter to portray such high-ranking men. However, by this period in her career, the opportunity to pose for a Cecilia Beaux portrait had become, in and of itself, "a mark of prestige" (163).

Progressive in her professional and public achievements, Beaux was, in all accounts, an exceptionally self-confident and hardworking modern woman. The autonomy of her success led one contemporary critic, Homer Saint-Gaudens, to remark in his 1905 article "Cecilia Beaux" that she was "the one woman in a thousand who has no man standing between herself and her productions" (39). While never openly involving herself in contemporary feminist organisations, Beaux conveyed ideals of female kindship in visual terms, electing to make statements through her art rather than donning political labels (Yount 38). As a revered artist whose later financial independence enabled her to paint subjects of her choosing, Beaux produced a number of portraits that distinguished female professionals, immortalizing the achievements of business women, college administrators, social activists such as Ida Tarbell, and American suffragists such as Eliza Sprout Turner, New England educator Sarah Elizabeth Doyle, Marion Reilly (the Dean of Bryn Mawr College), intellectual Bertha Hallowell Vaughan, and the education reformer Frances Bennett.

With these portraits, Beaux honored and visually validated the critical role of progressive New Women in society who had attained positions and influence in the public sphere, conveying, in the process, respect for those with whom she shared mutual admiration. 3 Moreover, while conscientiously challenging contemporary feminine propriety throughout her career, Beaux's intimate portrayals of professional women demonstrated that she was "in [full] sympathy with her sisters" (Hanley 31).

Due to what has been often regarded as her demarcated conservative and academic style, the life and work of Cecilia Beaux has been neglected in post-modernist scholarship for nearly a half-century. Beaux only now begins to receive the attention she deserves in academic discussion. Venerable for her artistic achievements, Beaux was a prominent figure in the collective development of early feminism, utilising her art and influence to reflect and to effect social change in an era of cultural modernity. Scholars have described her as a domineering individual who sought the centre of attention, but who also offered reassurance to young artists; a well-read intellectual and a caring friend, but who also cultivated an aloof independence; a paragon of professional self-confidence and strength, but one habitually melancholic; and a modish dresser, entirely sensitive to changing fashions, but one who nevertheless subverted all other codes of feminine tradition (Yount 19). In essence, Beaux embodied, in all her complexities and ambitions, a truly modern New Woman.

Hayley McGuirk is a graduate student of Art History at Ohio University, Athens. Her research interests include late-nineteenth century women's rights and issues surrounding the American Women's Suffrage Movement. She is currently writing her master's thesis on Femininity, Feminism, and the New Woman: An Ideological Comparison of Mary Cassatt and Cecilia Beaux.

Notes

1

Beaux later recalled this lucrative but demeaning period of her career in her autobiography, "remembering it with gloom and recording it with shame." See

Background with Figures

85.

2

An untitled article in the

Washington Star

in May 1914 claimed that this depiction of a woman after a suffrage meeting "may well be understood to refer directly at least to the feminist movement of the day." See fiche 429, grid 252, in the Archives of American Art's collection of Beaux's papers, in this case the scrapbook with its many newspaper clippings on Beaux.

3

Beaux's graphite on paper drawing of Ida Tarbell (1920) is inscribed, "To my friend Ida Tarbell- Cecilia Beaux," suggesting that the portrait was intended as a gift. In a letter written on June 8, 1939, Tarbell expressed her fondness for Beaux, conveying to the artist: "I think you are the most Gallant lady I know." See Cecilia Beaux Papers, fiche 427, grid 961.

Works Consulted
"Art Jury Awards Cecilia Beaux First Prize." Philadelphia Public Ledger (November 3, 1899). Cecilia Beaux Papers. Archives of Amer. Art. Web. November 20, 2016.

Beaux, Cecilia. Background with Figures: Autobiography of Cecilia Beaux. Boston: Houghton Mifflin, 1930. Print.

---. After the Meeting. 1914. Toledo Museum of Art, Toledo, Ohio. The Athenaeum. Web. 9 Nov. 2016

---. Les derniers jours d'enfance. 1883-1885. Pennsylvania Acad. of Fine Arts, Philadelphia. The Athenaeum. Web. 9 Nov. 2016.

---. Self Portrait. 1894. National Acad. Museum, New York. The Athenaeum. Web. 10 Nov. 2016.

Carter, Alice A. Cecilia Beaux: A Modern Painter in the Gilded Age. New York: Rizzoli International , 2005. Print.

Cecilia Beaux Papers, 1863-1968. Archives of Amer. Art. Smithsonian Inst. Washington, D.C.

---. Archives of the Pennsylvania Acad. of Fine Arts. Philadelphia, PA.

Chadwick, Whitney. Women, Art and Society. 4th ed. New York: Thames and Hudson, 2007. Print.

Hanley, Catherine M. "Women in Art." Boston Teachers News Letter (February 1943): 31. Cecilia Beaux Artist File. Lib. of the Pennsylvania Acad. of Fine Arts. Print.

Saint-Gaudens, Homer. "Cecilia Beaux." The Critic and Literary World 47 (July 1905): 38-39. Print.

Swinth, Kirsten. Painting Professionals: Women Artists and the Development of Modern American Art, 1870-1930. Chapel Hill and London: U of North Carolina P, 2001. Print.

Tappert, L. Tara. "Cecilia Beaux: A Career as a Portraitist." Women's Studies 14 (1998): 389-411. Print.

Yount, Sylvia. Cecilia Beaux: American Figure Painter. Berkeley: U of California P, 2007. Print.