Latchkey Home Book Reviews Essays Conference News Featured New Women
New Women: Who's Who GalleryThe Whine Cellar
Teaching Resources Bibliography
Contact us

Violet Hunt (1862-1942)
By Melissa Edmundson.
Violet Hunt's life spans two important literary and social eras. She was born in the middle of the Victorian age, a time when many held fast to the belief that women were meant solely for the domestic space and that their lives were defined by their relationships with men—as mothers, wives, daughters, and sisters. Yet she also grew up in a home that valued artistic expression and individual freedom. Violet Hunt used this upbringing to her advantage as she explored—in both her personal life and her published writing—the new freedoms women demanded in the nineteenth century's final decades. This independent spirit that embodied the modern twentieth-century woman, however, was always at odds with the idealistic and "respectable" model of Victorian womanhood that loomed over Hunt's early years. The dichotomy, in turn, gave Hunt the subject matter for her novels. Her protagonists display the tensions Hunt herself felt as they try to find their place as independent, autonomous women and to subsequently free themselves from restrictive Victorian morality. 

Isabel Violet Hunt was born on 28 September 1862 in Durham, England. She was the eldest daughter of the painter Alfred William Hunt and the novelist Margaret Raine Hunt. Violet was privately educated prior to entering Notting Hill and Ealing High School, from which she graduated in 1877. Because of her father's connections to the Pre-Raphaelite Brotherhood, the Hunt household was frequented by many well-known artists of the day, including John Ruskin, Dante Gabriel and William Michael Rossetti, and William Morris. Drawing influence from this group, Violet pursued her own artistic interests: from 1877-1879, she studied at the Kensington Art School (Belford, "Hunt, (Isabel) Violet").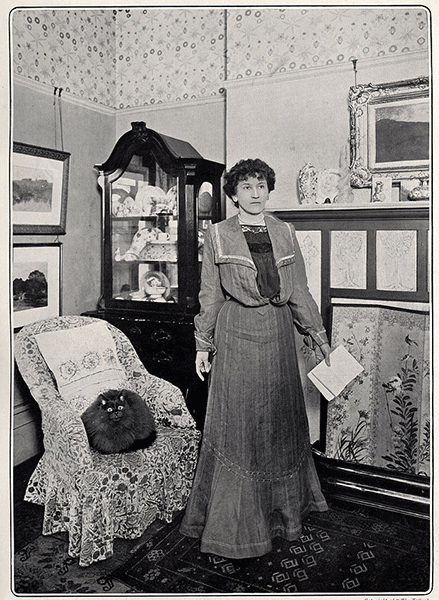 "Authors in Their Homes—Miss Violet Hunt,"
The Tatler, October 12, 1904


Along with her interest in visual art, Hunt began writing and publishing poetry before turning to fiction. Throughout her career, her work appeared in many prominent journals and magazines of the day, including Black and White, the English Illustrated Magazine, Novel Magazine, and the Pall Mall Gazette. She helped Ford Madox Ford manage the English Review in its early years and in 1921 co-founded PEN (the international association of writers originally standing for "Poets, Essayists, Novelists") with Catherine Amy Dawson Scott. A lifelong supporter of women's causes, Hunt was an active member of the Women Writers' Suffrage League and the Women's Social and Political Union. In her home at South Lodge, located in Kensington, London, Hunt gained a reputation as a literary hostess. From 1908-1918, she was romantically involved with the married Ford Madox Ford, often using the name "Mrs. Hueffer." This relationship ended badly and its after effects haunted Hunt for the remainder of her life.  

Hunt's writing spanned a range of genres. She was a poet, novelist, short story writer, journalist, translator, and memoirist. Her biography of Elizabeth Siddall, titled The Wife of Rossetti, was published in 1932. Many of Hunt's novels revolve around feminist themes and feature New Woman characters. The aptly named Moderna, protagonist of Hunt's first novel, The Maiden's Progress (1894), rejects marriage for several years, wanting instead to experience life as an independent, single woman. A Hard Woman (1895) continues to develop the feminist themes Hunt had begun in The Maiden's Progress. The problems caused by restrictive societal expectations of women are central concerns in Sooner or Later (1904) and The Celebrity at Home (1904), each of which eschew traditional romantic plots in favor of more realistic depictions of women's often tenuous social standing as wives, lovers, and daughters within a male-dominated society. White Rose of Weary Leaf (1908), considered to be her best novel, fully develops the "New Woman" through its tragic heroine Amy Stephens. Stephens tries, through a series of different jobs, to live as an independent, professional woman, but she becomes pregnant with her employer's child, a situation that eventually leads to her death.

Violet Hunt adopted the "New Woman" not only in her fiction but also in her own personality. Recalling an early meeting with the publisher William Heinemann in which she presented the manuscript of White Rose of Weary Leaf, Hunt recalls how she—and her book—must have shocked the prim and proper Heinemann. In a reminiscence included in a contemporary biography of the publisher, she says, "so thought I, the newest of New Women, on the staff of the Pall Mall Gazette, sometime dramatic critic, in the habit of dangling my chin over the barrier of the promenade at the Tivoli, alone, unchaperoned, two or three nights a week, armed with my P.M.G. Pass" (232). Throughout her life, this flamboyant streak was always at odds with Hunt's desire to be respected, both socially and professionally. As an author and literary hostess, she associated with many well-known writers of the day but was also frequently judged by London society because of her bohemian lifestyle. In her memoir The Flurried Years (1926), Hunt remarked upon what she saw as the fundamental differences between women and men:

Men, even in the tiniest expeditions, are glad enough to leave the bridle on the horse's neck, to rest on their oars so as to be able to go farther in the day. But women ride headlong; catch crabs, and tire themselves at once. Like men, they are ready enough to fit out an Argo—at someone else's expense for choice—but, unlike men, contemplate with more equanimity the prospect of leaving their bones on a desert beach in some Company's service. In fact, give them a chance—only half a chance—and they will make the usual fool of themselves. Not the Newest Woman of all, but I happen to be the New Woman that people wrote about in the nineties. (65-66)

Reviews of Hunt's work were often mixed, mainly because of its progressive subject matter and feminist themes that were at odds with conservative Victorian and Edwardian values. In its 25 April 1908 review of White Rose of Weary Leaf, the Academy noted the general "cleverness" of Hunt's writing, 1 but had mixed feeling about the characters, particularly Amy Stephens, the "New Woman" protagonist:

Amy is Miss Hunt's masterpiece. In many details she is sketched with a quite brilliant fidelity to nature. She is a volatile character, as quick-witted as a cockney street-urchin, courageous in her many struggles with life, shrewd, peculiarly adroit in her management of persons whose intelligence have not been stung out of lethargy by poverty and want, ready in speech and action, and generally filled with the commonest common sense" (716)

Yet the reviewer fails to find any sympathy for Amy, and one must wonder if this is because of the progressive qualities she displays in the novel as an unmarried woman seeking opportunities outside the domestic home. Hunt's fellow writers, on the other hand, praised her work. In her March 1917 review of Hunt's semi-autobiographical Their Lives (1916), Rebecca West described the book as "a work of art" (4), recognizing its uncompromising vision of human life. She declared that the book "gives a cold, white vision of reality that recalls Maupassant" (4). For West, Hunt's emphasis on the troubled lives of two sisters was important to the overall thematic force of the narrative—a quality that many reviewers of Hunt's work failed to recognize—stating, "It is an extremely unpleasant book. Most great books are" (4).

In his January 1914 article on Hunt for the Egoist, Richard Aldington claimed that Hunt "writes like a woman better than any other woman" (17) as he drew attention to her talent for humor and wit. He called this wit "her most valuable quality," blurring the line between Violet the woman and Violet the author:

Violet Hunt's wit is quite personal and amazing. It is inexhaustible, careless, slap-dash, and altogether woman's humour. It is hardly ever forced, hardly ever not quite "it"; and then one realises that it is rather from carelessness than from lack of inventiveness. She is so profuse that she has no time to worry about quality. The marvel is that she should write so much so well. (18)

Another particular strength is "her gift of insight into the mind of 'flappers'" (17). These characters, according to Aldington, provide useful—and slightly frightening—insights into the modern young woman, whose autonomy and resourcefulness left male readers "more scared than ever of the omnipotent sex in every stage of its development" (17). In his memoir South Lodge: Reminiscences of Violet Hunt, Ford Madox Ford and the English Review Circle (1943), the writer and journalist Douglas Goldring recognized the unflinching descriptions of modern life in Hunt's fiction, saying that its realism and pessimism added a much-needed "note of Nastiness into English fiction" (42).

In addition to her novels, Violet Hunt was a gifted writer of supernatural fiction. Her collection Tales of the Uneasy, published in 1911, contains eight stories, plus the novella The Tiger Skin, which was revised and republished in 1924. 2 More Tales of the Uneasy, containing four stories approaching novella length, was published in 1925. Hunt grew up with ghost stories. Her mother translated Grimm's fairy tales and the noted folklorist Andrew Lang was a frequent visitor to the Hunt household (Belford, Violet 34-35, 48). In her Preface to More Tales of the Uneasy, Hunt discusses the prevalence of ghosts and folklore in her early years: "Ghosts in our homes were taken for granted, and permitted to cross the border-line till they became rather common" (xxii). She recalls that her mother was often a spirit medium during the private séances held at their home. Hunt also comments on the appealing subtleties of what she calls "borderland ghosts," literary spirits that are "more interesting to me than out-and-out spectres" (xxii). This shadowy liminality—and the genuine sense of "unease" these ghosts engender—are defining qualities of Hunt's supernatural fiction. In one of her best stories, "The Prayer," from Tales of the Uneasy, Alice Arne, the story's protagonist, declares, "I think there are worst things than ghosts" (117). This is chillingly true within the story, as the spiritual death of Edward Arne represents not only the tortured existence of a soulless man, but the death of love in a marriage, a very real occurrence that Hunt sets within the framework of a ghost story. Hunt's supernatural fiction is all the scarier when we realize that the sources of fear within it are very much grounded in the real. 

The Bookman praised Tales of the Uneasy, concluding that "Miss Hunt has once again proved that she knows as well as any living English writer how to write a short story" (97). In her essay, "The Novels of Violet Hunt," published in the English Review in February 1922, May Sinclair was one of the earliest critics to recognize Hunt's talent in this genre. She singles out "The Telegram," "The Prayer," "The Barometer," "The Coach," and "The Tiger-Skin" as works of imagination and the uncanny that approach "genius" (117). However, as with her earlier New Woman novels, other reviewers let Hunt's public reputation cloud their appraisal of her work. An anonymous review of More Tales of the Uncanny in the Observer noted, "Miss Hunt has a hurt attitude to life, a misunderstood grieved wonder like the anger of a child; and her puppets in these tales, especially the women, exhibit that anger" ("Violet Hunt's Stories" 4). Though the reviewer seemingly suggests that this feminine "anger" is detrimental to the overall quality of the collection, they also unknowingly highlight a major strength of the stories as these narratives possess a quality that makes them unique when compared to other male-authored supernatural fiction of the time that tended to eschew domestic issues and in-depth explorations of relationships between women and men. Indeed, many stories in both collections feature central female protagonists who are trapped in unhappy relationships, but Hunt expertly utilizes the supernatural to express their feelings of fear, unease, and hopelessness.

Violet Hunt died of pneumonia at her South Lodge home on 16 January 1942. She was buried with her parents in Brookwood Cemetery, in Brookwood, Surrey, England. Her Times obituary ended with the appraisal that her "path through life had not been easy, but she retained the affection of her friends, who knew that kindness of heart and feeling for the troubles of others lay behind her often acid speeches" (6). In the years following Hunt's death, her reputation as an innovative modern novelist was increasingly overshadowed by her role as organizer of the South Lodge salon and her love affairs with prominent male authors of the day, such as H. G. Wells and Somerset Maugham. With this predominant view, Violet Hunt seemed to exist only in relation to other people. Rather than "writer" or "novelist," Hunt was labelled as a "literary hostess." She became a conduit for other writers' genius, thereby diminishing her status as an accomplished author and social activist. As Marie Secor states in her 1976 reappraisal of Hunt's literary career, "If Violet Hunt is remembered at all today, it is as Ford Madox Ford's self-proclaimed wife and only vaguely as a novelist in her own right" (25). In 1943, the year following her death, Goldring labelled her "a fashionable and faintly vicious blue-stocking" and recalled her girlhood nickname, "the immodest Violet" (42). During her life, Hunt was negatively portrayed when she was reimagined in Ford's fiction through his characters of Florence Dowell in The Good Soldier (1915) and Sylvia Tietjens in Parade's End (1924).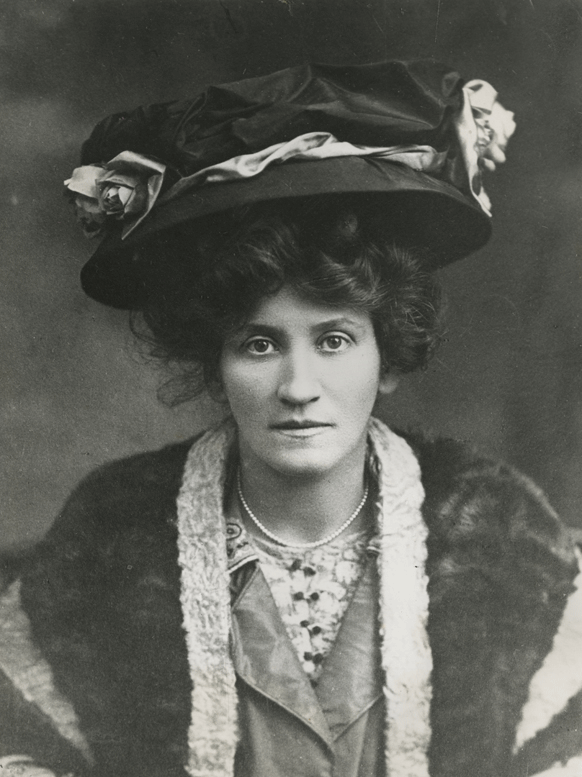 "Portrait of Violet Hunt," The Throne, April 3, 1912.


For all her modernity, Hunt was seemingly forever haunted by the specter of the Victorian era with her role as hostess and mistress taking precedence in the public mindset over her career as a professional writer and intellectual. Scholarly interest in women writers in the 1970s helped spur a renewed interest in Hunt's writing.  Secor asserts, "Her young women are created by the nineteenth century, but they face the twentieth with the need to define their moral positions honestly and personally and to break out of the Pre-Raphaelite mold of exploitative idealization" (33). Secor notes that these fictional preoccupations mirrored Hunt's own need to express herself authentically as a modern woman.

In many ways, Hunt was both ahead of her time and pulled by the past. She was born in the Victorian era and internalized many of its values. Yet she was also independent and intellectually curious and benefitted from the newfound social freedoms women experienced in the last decade of the nineteenth century and the beginning decades of the twentieth. This amalgamation is what makes her work so important. Hunt may not have ever reconciled these seeming inconsistencies within her own character, but as these complexities found their way into her writing, they resulted in a rich body of literature that deserves to be read and celebrated for its ability to critique women's experiences within a changing British society.

Melissa Edmundson is Senior Lecturer of English at Clemson University. She specializes in nineteenth and early twentieth-century British women writers, with a particular interest in women's supernatural fiction. She is the author of Women's Ghost Literature in Nineteenth-Century Britain (University of Wales Press, 2013) and Women's Colonial Gothic Writing, 1850-1930: Haunted Empire (Palgrave Macmillan, 2018). She has edited critical editions of women's occult and supernatural fiction: Avenging Angels: Ghost Stories by Victorian Women Writers (Victorian Secrets, 2018) and several for Handheld Press including Women's Weird: Strange Stories by Women, 1890-1940 (2019). Her edition of Clotilde Graves's imaginative fiction, A Vanished Hand appeared in 2021 as part of Swan River Press's "Strange Stories by Irish Women" series. Her Broadview Press editions include Dinah Mulock Craik's 1851 novella The Half-Caste (2016) and Charlotte Riddell's 1875 novella The Uninhabited House (2022).

Notes


1

May Sinclair begins her February 1922 essay on Hunt with a comment about this perceived quality in Hunt's writing, noting that its repeated use by contemporary reviewers belied the genuine merits of her writing: "A writer who has once had the misfortune to be called 'clever' is damned for all the higher purposes of praise" (106).  

2

In the Preface to

More Tales of the Uneasy

, Hunt credits a conversation with Henry James which gave her the inspiration for the book's title. Hunt greatly admired James and discusses the literary achievement of his novella

The Turn of the Screw

(1898), particularly its effect as a psychological ghost story.


Works Cited

Aldington, Richard. "Violet Hunt." The Egoist, vol. 1, no. 1, 1 Jan. 1914, pp. 17-18.

"Authors in Their Homes—Miss Violet Hunt." The Tatler, 12 Oct. 1904, p. 55.

Belford, Barbara. "Hunt, (Isabel) Violet (1862–1942), author and literary hostess." Oxford Dictionary of National Biography, 3 Jan. 2008.  https://doi-org.libproxy.clemson.edu/10.1093/ref:odnb/38705. Accessed 19 Apr. 2022.

---. Violet: The Story of the Irrepressible Violet Hunt and Her Circle of Lovers and Friends—Ford Madox Ford, H.G. Wells, Somerset Maugham, and Henry James. Simon and Schuster, 1990.

Goldring, Douglas. South Lodge: Reminiscences of Violet Hunt, Ford Madox Ford and the English Review Circle. Constable, 1943.

Hunt, Violet. The Flurried Years. Hurst & Blackett, 1926.

---. "Preface." More Tales of the Uneasy. William Heinemann, 1925, pp. vii-xxvii.

---. "The Prayer." Tales of the Uneasy. William Heinemann, 1911, pp. 95-128.

"Miss Violet Hunt." The Times, 19 Jan. 1942, p.6.

"Portrait of Violet Hunt."  The Throne, 3 Apr. 1912, p. 28.

Rev. of Tales of the Uneasy. The Bookman, May 1911, p. 97.

Rev. of White Rose of Weary Leaf. The Academy, vol. 74, 25 Apr. 1908, pp. 716-17.

Secor, Marie. "Violet Hunt, Novelist, A Reintroduction." English Literature in Transition, 1880-1920, vol. 19, no.1, 1 Jan.1976, pp. 25-34.

Sinclair, May. "The Novels of Violet Hunt." The English Review, vol. 34, Feb. 1922, pp.
106-18.

"Violet Hunt's Stories." The Observer, 6 Sep. 1925, p. 4.

West, Rebecca. "The Art of Making Books." The Daily News [London], 2 Mar. 1917, p. 4.

Whyte, Frederic, editor. William Heinemann: A Memoir. Doubleday, Doran and Company, 1929.